We took a couple of weeks of holidays in July, of which about 10 days for our honeymoon. We had been to Norway already 3 times: twice to the north and once to Oslo (see the second trip here and there and the one to Oslo there). But this time, we wanted to visit Geiranger area, and its famous fjords.
We started from Savonlinna on Saturday the 12th, since we were there few days to visit relatives and, of course, the mökki. Since we didn't start very early, we drove about 650 km, through Rantasalmi, Varkaus, Kuopio, Iisalmi, Piippola and Oulu. Here's Piippola: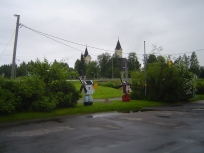 We reached Tornio, in the north, just next to the Swedish border. The camping there was nice, but taking a walk around it doesn't exactly show the best part of the area, plus mosquitoes are really hungry …
On the Sunday, we passed the frontier, and from Luleå we passed Skellefteå, Lycksele, Åsele, Dorotea, Östersund and reached Åre. Travelling through Swedish Lapland we realised how similar it was to Finnish Lapland, with all these typical forests and lakes and swamps and mosquitoes :) Enough to remind us how nature doesn't care much about frontiers. On the road to Åsele we met with a cute and not too shy local: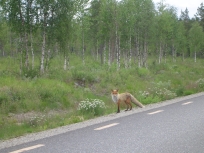 Plan was to stop in Östersund. Nice view over the lake, but the camping site was too crowdy to our taste, and belung to some chain, for which one needs to buy a camping card for 120 SEK first and then still pay a not that good price for the tent (170 SEK for 2). Since it wasn't that late yet, we decided to go a bit further. We found a cottage to rent for the night for 500 SEK at the doors of Åre. The owner was really kind, and the cottage included a kitchenette with fridge, cooker, oven and even a microwave oven, a clothe dryer (perfect in the winter, if you come to ski), 4 single beds, a big TV and … a sauna ! I'll give the phone number in the comments. It was quite time to rest, we had been driving for 800km !
Monday the 14th, we headed to Trondheim, our first stop in Norway. It's a beautiful city to visit, with gorgeous cathedral and university: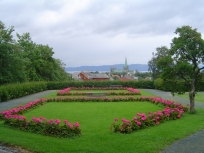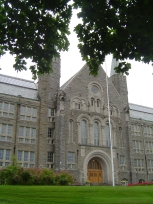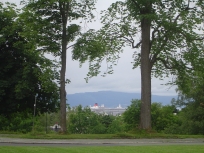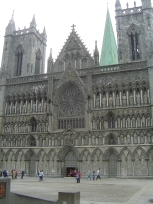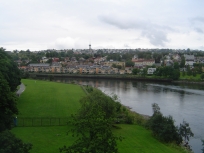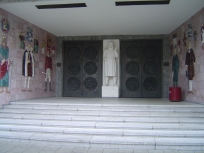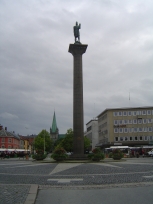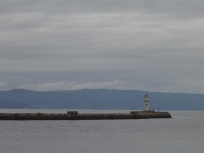 We have to drive a bit more today if we want to enjoy tomorrow a bit more, and it's not too late yet. The sky looks better as we approach Geiringer, let's hope it will continue tomorrow. Lanscape reminds us a bit that part of Ireland between Connemara and Donegal, for the small lakes and the stony plains, the rivers and the colourful flowers. But behind these, green hills covered with pine trees, and behind them, higher dark mountains with still a bit of snow play with rain clouds and the occasional sun appearances. Houses either look like Alpe's chalets, or follow Norway red-roof wooden cottage tradition. Some cottages even still bear the good old �stuff� on the roof :)
After we had passed Oppdal, Dombås, Otta, we stopped between Lalm and Vågåmo because the river looked wonderful and had this green colour. Distance driven that day: 450km.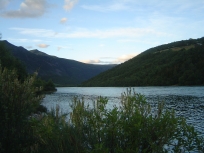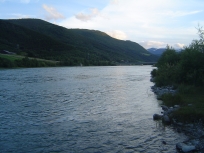 Apart from that, this place was a big disappointment as the camping place was surrounded with dump places and abandoned construction material, showers are to be paid separately, toilets don't have soap nor hand drying solution (does it cost so much to put some paper ?), cottages are dirty and smell tobacco, etc. Too bad we realised it too late …
We finished the first part of our travel the following day, the 15th. That part is only 150 km, but it is soooo beautiful landscape !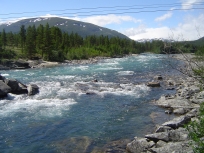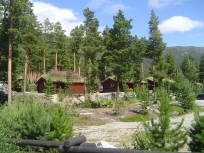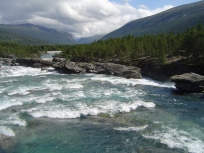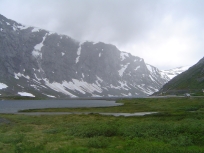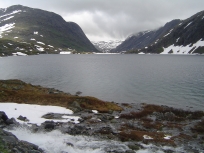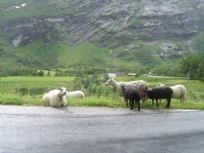 We didn't drive that many kilometres, but it was mountain roads, so it took some time. Anyway, since we had reach our destination area, plan was to take our time, and nice pictures along the road :) We also booked a cottage for the night as soon as we got there, and that seemed to have been a good idea: an hour later, no rooms were to be found anywhere … The cottage place, called Dalen Gaard, is surrounded with high mountains, is well maintained, and the people working here are much more welcoming than those in the camping the previous day.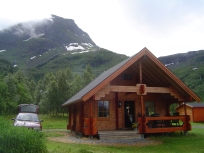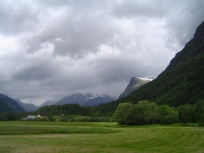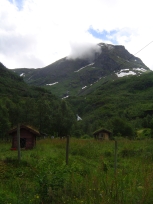 Cottage had 5 single beds and a sofa, a kitchenette with fridge, cooker and a microwave, toilet and shower. Very confortable but too big for us; unfortunately, that was the only one left (810 NOK). Good part in this camping: they seem to have wireless internet connection for free !
After a warm shower, we went around to visit Geiranger city and ask for informations about hikes and cruises. Looks promising !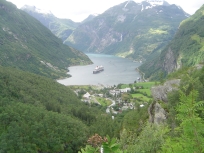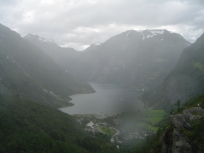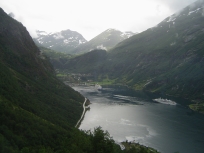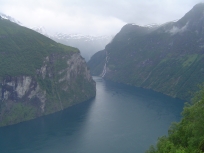 To see Part 2/3, click here.
To see Part 3/3, click here.