To see Part 1/3, click here.
To see Part 2/3, click here.
The return trip starts with that zigzag road we could see while hiking. It was a bit hard for the car, and we had to stop a couple of time to let the engine cool down. Our first target was Trollstigen (Troll's road), and we hoped to have good weather to admire the mountainous landscape. Unfortunately, the closer we got, the darker the sky and the thicker the fog, and we even reached point where it was barely possible to see the car in front of us.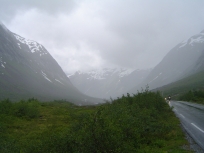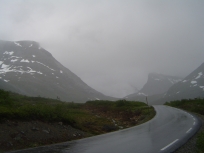 Road is quite steep again, but was mostly downhill, and had a few very nice waterfalls along it.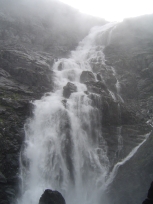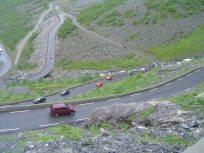 At the other end of the road, we could say bye to the Trolls :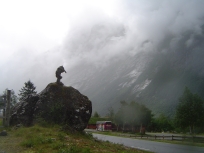 After that and going through lake ferries, nice countryside roads and the city of Molde which has a very nice viewpoint over 220 peaks: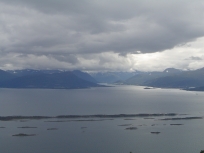 We then reached Atlanterhavsveien (Atlantic road), which has been built over a few islands. For this one, I was personally hoping that weather be bad, with a lot of wind, so that the waves be impressive :) Unfortunately, sun started to show up and there would be almost no wind. But the road was still amazing.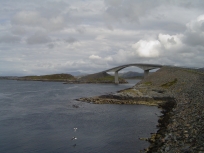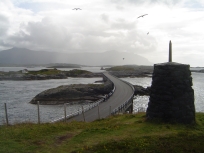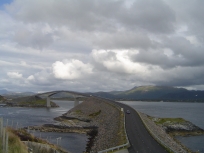 It was late at that point so we set to eat dinner in Kristiansund. The town is beautiful and although I'm not sure about the name of the restaurant ("Smia" I think), it had delicious sea food.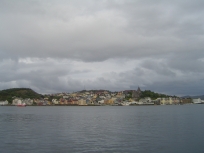 Driving in Norway is easy but expensive. To deal with the mountainous and fjord areas, they've had to build a lot of tunnels and bridges, and set up ferry lines. That also means that you should always keep your wallet ready … Some of these road work are really nice: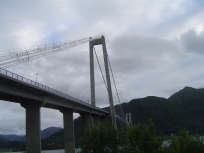 (if I remember well, this one didn't require payment, but it looked good :p )
The road we took then went through Sunndalsøra, Oppdal and Tynset in Norway, then stopped for only 4 hours of poor sleep (probably from 4am), then Mora and Falun in Sweden. Here are some pictures taken along the road: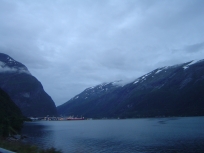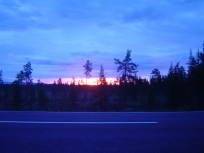 I have to say a word about that road in Sweden: they made it red, and it really helps when things get dark. It's also beautiful with the forest around it and the rising sun :) Too bad my photo isn't good at all. There were also a lot of wild life along that part of trip, both in Norway and Sweden, mostly elks.
We stopped in Uppsala to visit a friend, before taking the ferry from Stockholm back to Helsinki.
Distance driven from Geiranger to Stockholm: 1225Km.