To see Part 1/3, click here.
Breakfast (55 NOK) at the camping place had enough food and we needed that for the rest of the day. We wanted to start with the cruise, but we missed the boat (we somehow remembered the hours wrong), so we took the tickets for the last trip of the day. That left us with 4 hours … well, let's do one of these hikes recommended by the tourism office, perhaps two. We started with the one going from Vesterås Gard to Storseterfossen. It took us half an hour to get up there, but we then took a break to take fun pictures of the waterfall (you can even get behind it !) and enjoy some Swedish chocolate :p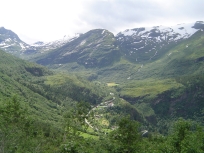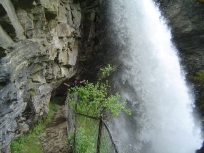 The way down is faster, but more tricky, as some parts are wet and slippery.
We then went from the same place to Vesteråsfjellet, a very good view point over the fjord and Geiranger center.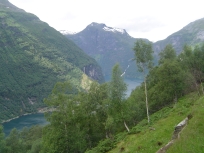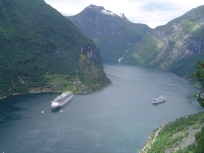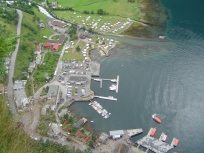 Since we still had some time, we then went up to Løsta, another excellent viewpoint over the fjord (but from higher up) and over the next mountain where the road does a very nice zigzag on its side.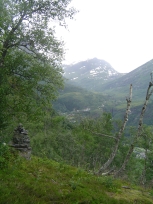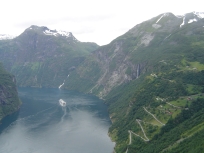 After that, we just had time to change clothes and drive back to the center: the boat won't wait ! Cruise costed 130 NOK, and was definitely worth it. The ship takes you for an hour and half along the fjord, introducing the main waterfalls, mountains and old farms, in 4 languages (Norwegian, English, German, French).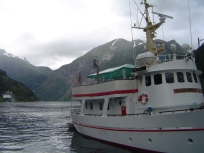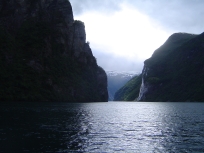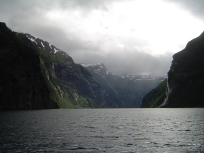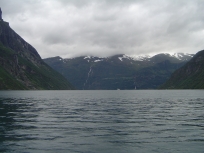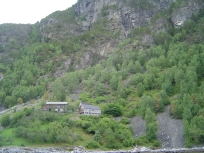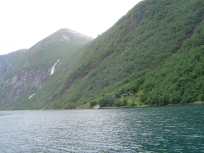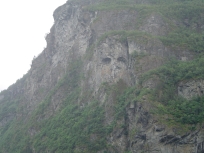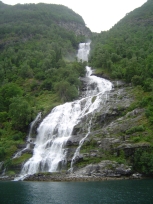 The famous seven sisters waterfall and their pretender who proposed them all, one by one, but never got a positive answer: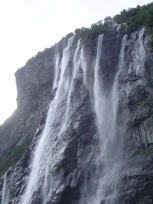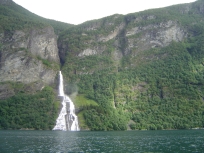 Remember to bring warm clothes if you take this trip, as the wind is quite fresh (and even nice, if sun shines), and cold rain comes quickly without warning. In the evening, we came back to the same camping place, since they had one of the smaller cottages available (430 NOK). It's a lovely one, with grass on the roof, a small kitchenette with fridge and cooker, a double bed and a single one above it, and a sofa.
To see Part 3/3, click here.