We got a good tour around Kuala Lumpur first by bus 50 kilometres to the city from the airport, and then driving from the main bus station by (luckily cheap) taxis to two other stations, as we had got wrong information about from which station would our night bus to Perenthian islands leave. Luckily it left later than we thought and we had time to eat, as it took over three hours getting stuck to traffic jams in the city.
Our trip's last night bus was as horrible as all the others before. The drivers drive so recklessly, that we are very happy we haven't got into an accident during this year.
In this Islamic country we noticed right away the contrast between majority of women wearing hijab and the rest dressing in western style.
Chris had chosen the bigger island of Perenthian islands for our holiday week, as it is said to be the more quiet one. Arriving just a week before closing up for the monsoon season, we got almost all the beaches just for ourselves, as there was so few people. Our cottage was located next to the forest, and was so peaceful to sleep in. Just about only thing you could wake up to was monkeys playing ball with a coconut in the roofs. We slept and rested so much. We had planned to apply for jobs during this week among snorkeling, swimming, and laying on the beach, but as thunder had broke the internet connections, we had no choice but to relax.
The cottages in the island are mostly old, not luxurious, but cheap. Also food is very reasonably priced for a tourist destination, it is possible to have a meal starting from under two euros. We had dinner few times with a German girl and an Estonian couple, from whom it was interesting to hear how life in Estonia has been in the Soviet times.
The underwater world is just amazing around the island. On the first snorkeling tour alone we saw sharks and turtles on top of colorful fishes and corals. And all this just meters away from the beach! We felt no need to go diving as everything we wanted to see was so close. During two days we got to swim above big turtles. That was so amazing! Every day we saw sharks, mainly small ones, but also around 1,5 meter long ones, which you do prefer to keep a bit away from. Unfortunately we had forgotten to buy a film for the underwater camera, and they had none left on the island, so this you will have to go to experience yourselves.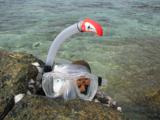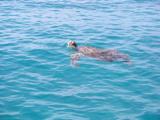 Photos
Slideshow
After wonderful holiday week we returned to Kuala Lumpur for one evening to admire the city's symbol, Petronas Towers, and the night lightning around. Kuala Lumpur is nice size, not too crowded capital city.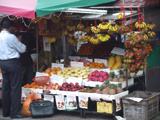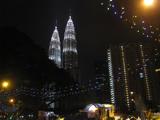 Photos
Slideshow