We were welcomed to Thailand by probably the nicest and smiliest ever border controller. No bag checking again or any hassle at this border, but note that the visa lasts only 15 days (against 30 days if arriving from the airport).
In Thailand instead of heading to the beach our plan was to make a tour in the north of the country. We noticed being suspicious about everyone taking too much money from us by now, and it was hard to think again that it's different country, give them a chance. In north of Thailand prices seemed to be more set and we felt that people tried to over charge much less than in the neighboring countries.
We got stuck in our first destination Chiang Rai for longer than planned as we found reasonably quiet hotel in garden surroundings with free WiFi, nice company and good food. We could not resist delicious three euro steaks and Bratwurst sausages in a German restaurant and ate there almost every meal. And for dessert lovely ice-cream in an ice-cream bar. But please remember we walk a lot during days in high heat so we need it :) Poor Chris has shrank so much in Asia that his pants almost fall down. Not Netta… Life is not fair.
The most special thing to visit in Chiang Rai was the White Palace. Even though built very recently, and so lacking historical value, this palace charmed us totally with it's beauty and capturing color. Inside where taking pictures was not allowed, it has modern paintings from Superman to mobile phones, alcohol to gambling and guns to moon traveling.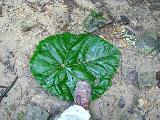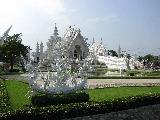 Photos
Slideshow
Next we headed to a small place called Tha Ton. We had got a recommendation from the people we met in Chiang Rai to go there. That was great, as we had very enjoyable and relaxing four hour river cruise there by a small river boat. On the way we got to see and feed elephants and a giant cobra, plus of course to watch the local life along the river. Tha Ton was very nice little town. We climbed up a hill pass funny fake rock formations and Buddha-statues. On the top we found a temple with unique style and view over the city and surrounding hills. We loved it there and stayed until sunset. We over nighted in a fancy riverside bungalow and watched a lightning show passing us.


Photos
Slideshow
We had planned to visit Pai next, but due to bus schedule issues ended up directly to Chiang Mai. This was actually good as we found there nice, inexpensive hotel with swimming pool and free WIFI, plus we didn't have too much time left in Thailand anyway. From Chiang Mai we did a magnificent day tour. During this trip we rode elephants, did bamboo rafting on a river, swam on a cool natural Jacuzzi by a waterfall and went to see "long neck" – and "big ear" tribes.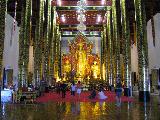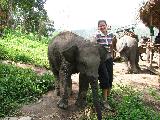 Photos
Slideshow
Next came Sukhothai, and its historical park. There is a lot to see there and one day was fully needed. We also met a Nordic man living there. He and his family invited us to his fancy house and for a lunch, let us wash laundry at their place and even took us to take a peek on very interesting Thai funeral. One more winter night story…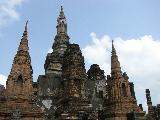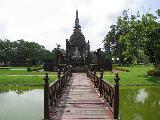 Photos
Slideshow
After a long bus, we arrived in Ayutthaya. The place has a lot of ruins and still standing temples, and even a palace. We had only one day to spare visiting there, and it was a bit short, especially since we decided to walk everywhere. Thailand has had a few kingdoms, and even more capital cities, including Chiang Mai, Sukhothai and Ayutthaya, which explains why there is so much to see.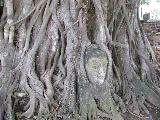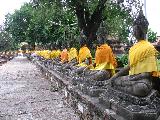 Photos
Slideshow
South from Ayutthaya, Bang Pa-In palace was beautiful, good that we didn't miss that one. The palace area has got a lot of influence from Europe. We couldn't visit quite all parts of it as the princess of Thailand arrived there for some event before we moved on. The current king of Thailand is very popular, and it will be interesting to see what happens in the country regarding royalty after he has passed away.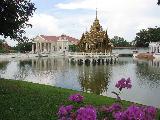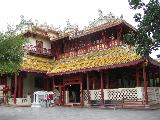 Photos
Slideshow
In Bangkok we spent just Saturday evening and Sunday. We couldn't miss the Grand Palace and temple of the Emerald Buddha. A tip for the people planning to visit the place: they have interesting and very clever rules. You can enter in a mini skirt and a revealing dress, but not with pants which cover your knees but are not fully long. You can however borrow a long skirt/pants by the entrance. We also walked a bit around the area to see more landmarks, but were too tired to visit all what the capital city has to offer.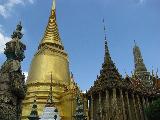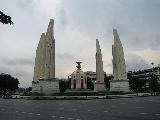 Photos
Slideshow
Now we have seen enough temples and Buddha-statues for few years, perhaps even for the few next re-incarnations. There is so many temples around every corner, especially in Thailand. Touring South East Asia has been tough not least because of noise and sleeping problems. Netta feels like she hasn't slept properly for months, and now it is wonderful to go to Malaysia to lay on the beach for a week. Let's hope that the typhoons are not heading that direction. We have been lucky so far as the typhoons have followed our route and hit Japan, Vietnam, Cambodia and Laos after we've been there.