Next we headed to Dong Hoi and Phang Nha caves. In Dong Hoi there is also a beach, where we relaxed a bit and swam in the warm water. We had expected to find some people speaking French, since Vietnam used to be a French colony. But for our surprise we found like no one speaking French, but few people speaking German. So in Dong Hoi we rented a motorbike in German. It was a nice ride through countryside to the caves. Only three kilometers before the caves we got under a huge tropical rain and lighting, and we had to seek shelter in the nearest house as we were not able to keep driving. Kindly we got offered good local tea. We wanted to pay somehow, and once again felt annoyed that because of the long travel we hadn't been able to carry any small gifts from our countries to leave to the nice people we meet. Only thing I could find from my bag was a Yatzy-game for the many kids in the house, and some forgotten Finnish salty liquorice. Surprisingly the men didn't seem to find them too bad, but the poor kids were throwing them out of the window :). Finally getting to the caves we almost missed the whole place, as the only way to explore it is by boat. It was already quite late in the afternoon, and the ticket booth tried to get us to rent the whole boat just for us claiming that there was no one we could share one with. Luckily just when we were going to turn back a tour leader accepted us to share their boat, so we got the ride much cheaper. That was great, because the boat trip and the caves were very nice.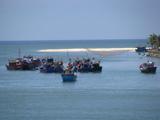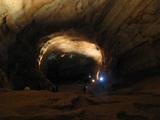 Photos
Slideshow
From Dong Hoi onwards we moved around by bus. They were very convenient and comfortable, but it is good to shop around as the prices do vary. We always got to the next place for under 10 euros each.
We stopped in Hue to see the Imperial Palace. Hue was quite a noisy place too and one day there was enough.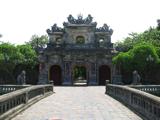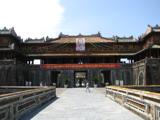 Photos
Slideshow
Hoi An is the best place in Vietnam to get tailor made clothes done. They do the clothes fast, and can also copy your old favorite piece of clothing. Hoi An is quite nice little town, there is typical blue local boats on the river and a beach which we unfortunately missed because the day we were supposed to go there it was raining all day.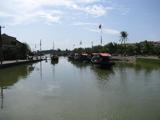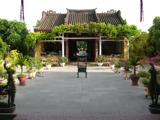 Photos
Slideshow
From Hoi An, one day we drove by motorbike to see My Son, remains of ancient Champa civilization temple complex, half located in the jungle and largely covered with bushes.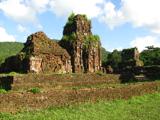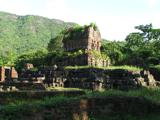 Photos
Slideshow
In Hoi An we started a PADI Open Water Diving course with one day theory part. The two days pool and open water exercises we passed in Nha Trang, a bigger beach town. Chris had wanted for a while for us to take the course so that we could go diving together. Netta was nervous about it because she didn't feel comfortable breathing under water. It did feel to her like participating "Fear factor" from time to time, but with guts got it done. The three day course is quite fast paced and includes many exercises and lot of information. It's good that the basics are now well learned, so next time the diving should feel more relaxing and fun. The corals were nice, not as impressive as in Australia, of course, but we go to spot animals we had not seen before, like a nice black coral eel and probably 2m long and 2 cm thick coral worm !
In Nha Trang, there also is a Champa temple and a Buddhist one which has a statue dominating the whole area.
On our last night in Nha Trang we took a cooking course to see for example how they prepare the spring rolls. We hadn't noticed much differences in Vietnamese food compared to the chinese food, except that they use lot of coconut, pineapple. Shrimps were fresh, big, cheap and good. In Vietnam our problem nearly for the whole month regarding food was that the portions, even twice as expensive as in China, were half smaller and not enough for us.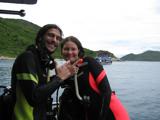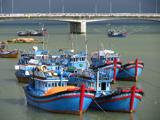 Photos
Slideshow
Before leaving Vietnam we went for few days to a smaller beach town called Mui Ne just to relax and to see some Cham towers and sand dunes. It is amazing how many huge resorts these places have almost empty for big part of the year.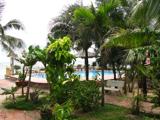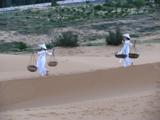 Photos
Slideshow
We also briefly stopped over in Saigon, aka Ho Chi Minh city, but didn't visit much of it.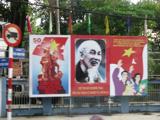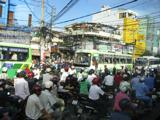 Photos
Slideshow
Apart from the sights and some great landscapes we didn't unfortunately get very positive picture of Vietnam. People felt genuinely friendly very rarely, mostly just on the countryside where people are poor. In the cities all the time you have someone after your money trying to sell you something or offering their motor bike for rent. They don't mind lying to get business and might in the same sentence speak how they follow the teachings of Buddha. Even in the post office the clerk lied the price of the stamps! Luckily we noticed at the door and turned back to get our change. Vietnam is touristy but at least in the low season there is way too many locals trying to make their living from tourism and seem to just drive around with their motorbikes all day coming after you.
Next step: Cambodia.