On our way to Kyushu island we stopped by in Fukuoka, where they have a small "Disaster prevention centre". In Japan they have frequently earth quakes and occasionally volcanic eruptions and typhoons. In the Disaster prevention center one can experience how it feels like to be in the middle of a strong earthquake or high wind, or to escape a house on fire. The center hosts mostly school groups, but anyone can go there for free.
In Kyushu we had one of the nicest days of our whole trip. In Aso there is the biggest active volcano in Japan called Aso-san, that we wanted to see. When taking the bus in the morning the weather didn't look promising at all. It was so foggy we could only see few meters far. But the weather changes quickly there and in the beginning of the hike it started to get better. We climbed on top of Nakadake and Takadake mountains next to Aso-san. On the way we met a guy from Hong Kong and climbed the rest together. From Higashimine lookout there are wonderful views over fields of azalea flowers, the volcano and down to the valleys. It was a great feeling to walk along the borders of the mountains, it's so peaceful there and feels like you are on the roof of the world. Could have stayed forever. Next to the volcano it smells sulfur, which makes you cough easily. People with asthma or heart problems should not enter the area.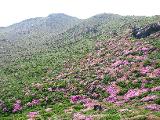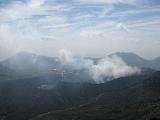 Photos
Slideshow
We didn't unfortunately have enough time to reach the Japanese alpine area in central Japan, but we did visit 1998 winter olympics city Nagano, along Jigokudani Yaenkoen. It is a special place, because there you can find Japanese Macaque monkies taking baths in hot springs. These monkies are also called snow monkies, as in this area the snow covers the ground for one-third of the year. It was funny to follow the tricks and the games of the monkies. It's interesting how much they resemble humans sometimes.
After seeing the monkies enjoying the hot springs, we also wanted to have a bath in the areas natural waters. In Yamanouchi town we had difficulties finding an outdoor bath, and just when we were to give up, we were greeted by friendly english speaking Japanese lady, who invited us to enjoy their luxury outdoor private bath on the roof of their hotel. Afterwards we ended up talking with the owners of the hotel until late evening. Another great experience about Japanese hospitality.
We regretted that we didn't have time to stay in the area, as Shibu spa looked very interesting. People (especially young people) walk along small, nice streets wearing Yukata's (summer Kimonos) and wooden sandals. They visit Shibu's nine public baths as it is believed that bathing in all nine (Ku) Sotoyu washes out worries (Kuro) and gives benefits of warding-off evil, good health, safe child-birth, healthy children and longevity.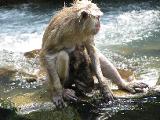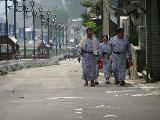 Photos
Slideshow
Japan has thousands of hot springs. The bathing places which use this natural water are called "onsens". Onsens can be found in hotels and many public bathing places. The bathing places which don't use the hot spring water are called "sento". There are separate baths for women and men, and everyone goes into the bath naked. Before stepping into the hot bath you need to wash yourself well. The washing happens in an interesting way, by sitting down on a small chair. What we didn't quite get, was how to correctly wash your bum like this…
We wanted to visit all the four main islands, but started to run our of time, so our visit in Hokkaido was short. Our destination there was Sapporo, where at the time of our visit happened to be a shrine festival.
We walked through a market street, selling different kinds of food and toys for kids, and saw a small shrine parade.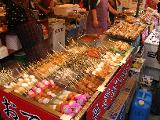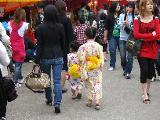 Photos
Slideshow