Good starting point for a trip to the floating islands on Lake Titicaca is the city of Puno.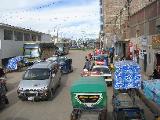 Lake Titicaca is located 3821 meters above sea level on the border of Peru and Bolivia and it is the largest lake in South America.
The floating islands belong to the old Uros people (they nowadays speak Aymara). The islands and the houses on them are made entirely out of reeds. People there live by fishing, exchanging trouts for potatoes in closeby hills. They also have small guinea pig farms on their islands. Basically the only use they have for money is to build schools and a hospital from what they earn by selling souvenirs.
After 2H30 cruising, the boat then landed on Huillanopampa (a real island this time), where we spent the rest of the day. Fresh fish was awaiting us, it was so good ! A couple of local dances, some explanations about the meaning of people's clothes colours, a few photos, and we were heading back to Puno.
Photos
There, after a good night sleep (or almost, there's so much noise here), we took a bus to La Paz, Bolivia.