We went to Ruka, 2 weeks ago (yeah, I know, I should have updated earlier), since we had a long weekend thanks to 1st of May being a day off (Labor Day is called Vappu here). Ruka is located next to Kuusamo, in Lapland (north part of Finland), and even this late, you will find snow and frozen lakes. Enough snow to make Ruka a famous ski resort here, and lakes frozen enough that you can ski, walk, jump, sometimes even drive on it ! Ok, in May, it might be a bit late to drive on the ice … but in March, it's still ok.
Anyway, I kinda hurt myself playing soccer, and wasn't able to ski, so I decided to try ice fishing. It was just amazing ! Very relaxing, quite fun, and it gives you enough food for your dinner :) Plus, you get to see nice landscapes, what more could one ask ?
Ice was still over half a meter thick on the first day, but with the sun shining a lot, sun glasses were already a must on the second day, and you could hear the ice melting around you. On the third day, my feet would get up to 30 cm deep in the melted ice when I walked. Not surprisingly, I wasn't feeling that safe anymore, especially when you keep hearing stories about all those people who die every year when ice breaks.
On the first day of fishing, we were almost alone on a big lake, deep in the fog, and temperature around 12ºC. My fiancée's uncle taught us how to make a hole (there's a special tool for that, it's more secure than the traditional axe), gave us some small equipment (you really don't need bigger) and we got started. By the time Netta and me got set up, he already caught 4 or 5 fishes …
Obviously, he had more practice, and although we could feel some touches, it took us some time before we caught our own. Of course, by then, he had caught 30 …
Here are some pictures of the first day: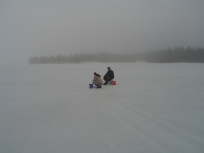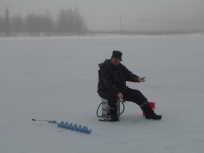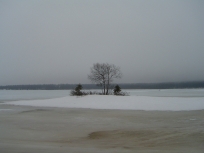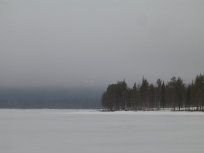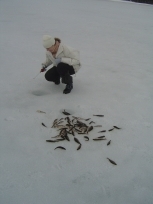 In this lake, we only got this small fishes, but since we got a lot, we were able to make two meals out of those. Of course you need to "clean" them, meaning removing the fins, the skin and the head of each one of them. Then you can cook them in several ways: in a soup, fried (my favourite), etc. Some of these had eggs, edible too (quite good once fried also).
Note that too young fishes and wrong kind were put back to the lake. I'll try to find what was the name of the "good" one.
On the second day, we got set much faster, and got more productive. But we still took time to enjoy the warmth (above 20ºC) and the surrounding area.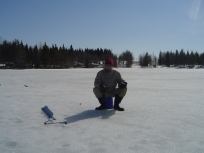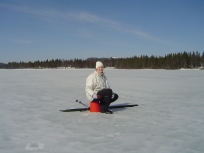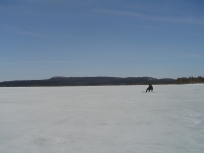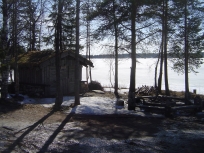 On the third day, we tried to get bigger ones on another lake, but it didn't work out :) A lot of people were there to fish, but it seemed like only small fishes would show up, and in much smaller number.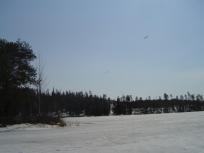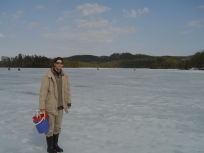 Anyway, with the ice melting this fast, we thought it'd be enough for the weekend, and we spent the rest of the time walking/visiting around our rented mökki (sort of chalet or summer cottage). We did meet some reindeers: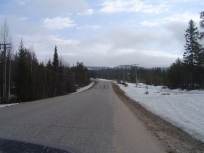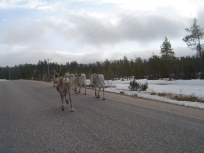 … and even a sauna bus: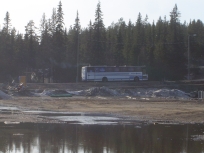 (note the chimney on the roof) !!!
That's it for the weekend in Ruka ; there are regular flights from Helsinki airport to Ruka-Kuusamo airport, and train connections, but if you have time, and if it is your first visit in Finland, I still recommend you rent a car and drive your way up there. It takes long time, but it's definitely worth it :)