Voila un peu plus d'une semaine que je suis en Suede, pour le training de ma boite. Je suis tout de meme rentre a Helsinki pour le weekend, heureusement. La semaine derniere, le temps etait terrible : a Stockholm, entre -5 et -10 avec beaucoup de ce vent glacial, et a Helsinki, -25, juste histoire de faire bonne competition. Cette semaine ca va beaucoup mieux, mais ca reste negatif.
Le training est interessant, et pose les bases du logiciel maison, d'un language proche de SQL appelle MQL, et aussi du celebre script Tcl. Cette semaine, on voit d'autres aspects du logiciel maison, et peut etre un peu de Java. C'est cool pour une chose : j'apprends enormement, meme si on ne fait que toucher la surface.
J'ai aussi eu l'occasion de rencontrer Fredrik, un collegue d'Apple. Il travaille maintenant pour la (nouvelle) boite qui s'occupe des appels suedois vers Apple, en local.
Je n'ai pas eu trop de temps pour ecrire sur le blog, et pas trop d'inspiration non plus. Je joue toujours a Royaumes, simple mais passionant. Et a Warrock, quand je suis chez moi.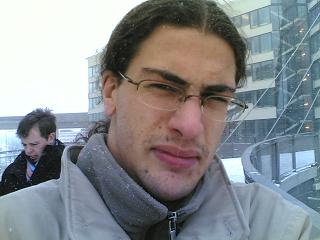 This entry was posted on Tuesday, January 24th, 2006 at 12:15 and is filed under
news
. You can follow any responses to this entry through the
RSS 2.0
feed. You can
leave a response
, or
trackback
from your own site.